Wakamatsu headphone tube amplifier
I have been building a headphone tube amplifier that I bought from Wakamatsu at Akihabara last year.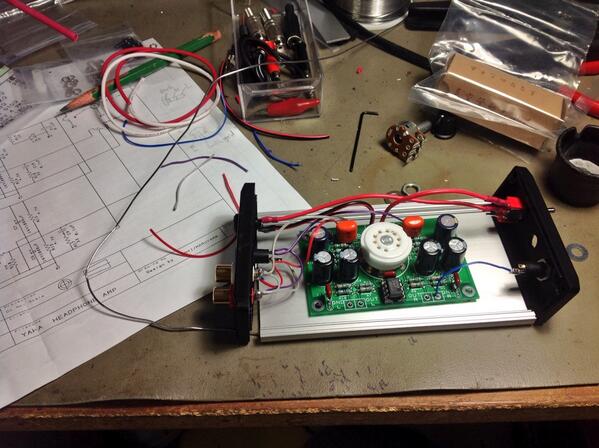 The instructions had a couple of mistakes and the instructions weren't that great for the wiring. The sample cutout distances for putting the earphone jacks and volume control pot was also incorrect as using the provided measurements meant the parts wouldn't fit on the face of the casing. The photographs also showed a kit with the capacitor wired the wrong way around which I checked several times and asked other electronics friends to verify that it was wrong.
In the end I just stopped following the instructions and just followed the schematic diagram. I'm kinda disappointed with the poor and in some cases plain wrong instructions. I've learnt that next time I buy a kit from Wakamatsu, I should ignore their instructions as they can't be trusted. The only thing I can trust is the schematic diagram.
Anyways, I made quite a bit of progress on the build and took a photo of the progress. After taking the photo, I realized that I wired up the input incorrectly as the input should be connected to the volume control pot before it goes to the input to the amp. It should be something easy to fix. I have finished wiring up the audio jacks and the power also has been wired up too. I still have to set up the earth to the case though.
I think I should have it done soon. I am planning to use it with a power supply I made previously to provide 12v DC to my other headphone tube amp I built.